You've probably heard just about everything about the solar eclipse by now, from it being one of the biggest solar events in decades, to the need for special eclipse viewing glasses, to Krispy Kreme's limited edition, chocolate-glazed eclipse donuts. But one thing eager eclipse viewers may not have taken into account are the multitude of traffic woes state and federal officials have been preparing for for months.
Take Oregon, for example. Among one of several states to experience totality in certain areas (aka: a total blackout, except the kind everyone will remember – totality refers to the moments when the moon passes between Earth and Sun, blocking all the sun's light), the Beaver state is expecting one million visitors and is treating the eclipse as it would an emergency event. Flights to Portland were completely booked up months before August even rolled around, and local authorities are concerned that highways could be backed up for hours upon hours–long enough for folks to run out fuel. They're asking drivers to plan trips well in advance, as cell service before, during, and after the eclipse could be completely overloaded.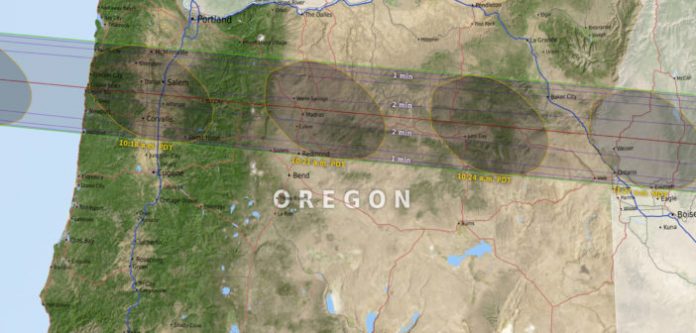 Other states that will experience eclipse totality to some extent include Idaho, Montana, Wyoming, Nebraska, Kansas, Iowa, Missouri, Illinois, Kentucky, Tennessee, Georgia, North Carolina, and South Carolina. Each state has worked hard to create a traffic management plan for the eclipse, and we're guessing those plans don't include any time for a Krispy Kreme eclipse donut run.
The federal officials are chipping in too, working to support those communities that will experience totality. Even just a few minutes of darkness is enough to cause accidents or at the very least, panic in unsuspecting drivers who will likely be traveling on already congested roads. Safety tips include making sure headlights are turned on (as automatic headlights may not switch on when totality occurs), being prepared for stops/pedestrians as folks pull over to get a good viewpoint, and of course, avoiding congested routes altogether.
Our advice? Avoid all the busy roads, figure out the best viewing location near you, slap on some safety glasses, and enjoy your eclipse and limited-edition donuts in peace and safety.
Sources: That Oregon Life, TIME, Food & Wine
Featured image: www.sciencealert.com