Prediction: 5 years from now, the Emmy's will be a way bigger fucking deal than the Oscars. The entertainment tides are turning, y'all, and before long–the small screen is going to come out on top. This is the golden age of television, after all, and while the #OscarsSoWhite, the Emmy's are coming in hot with ample recognition to people that aren't straight white men. Here are some highlights from this year's studio lot circlejerk:
Predictably, GAME OF THRONES won very many things.
12 things, to be exact. Notably: Outstanding Drama Series (for the second year in a row), Best Directing, Best Costuming, & Best Makeup.
Somewhat less predictably, Jon Snow took his moment in the sun to propose to Andy Samberg.
https://www.youtube.com/watch?v=gWnvcEhe8Q8
Ok, so it was for a "bit." Whatever. I ship it.
Unfortunately, none of the GOT acting nominees took home any shiny gold statues. But hey! There were other exciting developments: Sophie Turner and Maisie Williams showed up sporting matching tats.

Sophie's tattoo is pretty demure (and thusly difficult to read) but it says 07.08.09, which is the date that the onscreen sisters/off-screen BFFs found out they'd been cast on GAME OF THRONES.
In other news, Kate McKinnon won Best Supporting Actress in a comedy for her work on SATURDAY NIGHT LIVE. Because obviously.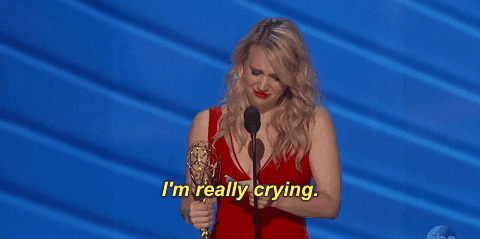 Lesbehonest: Kate McKinnon is SNL's saving grace.
Jeffrey Tambor earned a 2nd Best Actor award for his role in TRANSPARENT, then used his acceptance speech as a call to action for trans representation in film, expressing that he'd like to be "the last cisgender male to play a transgender female."
"I'm not going to say this beautifully: to you people out there … please give transgender talent a chance," he said. "Give them auditions. Give them their story."
TRANSPARENT creator Jil Soloway also took home an award, and brought the fucking house down with this glorious acceptance speech/rallying cry:
"This TV show allows me to take my dreams about unlikable Jewish people, queer folk, trans folk, and make them the heroes," Soloway said in her acceptance speech. "Thank you to the trans community for your lived lives. We need to stop violence against transgender women and topple the patriarchy! Topple the patriarchy!"
THE PEOPLE VS. OJ SIMPSON also won a bunch of shit.
5 for you, Ryan Murphy. You go, Ryan Murphy.
And VEEP swept the comedy categories for approximately the zillionth time.
Julia Louis-Dreyfus now has FIVE Best Actress awards for her role in VEEP. 5 years in a row, y'all.
Damn.