Have you ever wanted a puppy but thought 'man, if only these puppies weighed like 160 more pounds and looked more squat.'? Well then, have I got news for you.
Pigs for pets? A Freeport, N.S. man is breeding kune kunes and he says they're "basically like puppy dogs" https://t.co/InRcriwZ6C pic.twitter.com/fvmK0s3JwI

— Anjuli Patil (@AnjuliCBC) November 15, 2016
Kune kune pigs are a swine breed that were orginated in New Zealand by the Maori people in the 1800s. Their numbers have seriously dwindled over the past century, but recently there has been a newfound growth of breeders hoping to renew interest in the kune kune pig. One such breeder, Canadian Tom Jones, has started selling his piglets, saying that the pigs are "basically like puppy dogs."
That's right. According to Jones, dogs now have some competish:
"They'll come when you call their names. When you're home, they're there to greet you. They'll sit there beside you. They'll let you scratch their belly or their back or whatever and then they'll just sit there."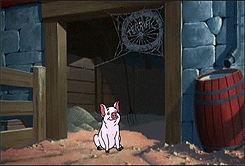 He recommends them for small farms, citing both their cute faces and their tame, friendly nature. They won't tear up your yard and are easy to feed.
That'll do pig. That'll do.
If you're horrifically over-invested in patriarchal masculinity and can't deal with the idea of a pink animal for a pet, it doesn't matter! This breed comes in many variations of cream, red, brown, black and white. They'll even be able to test your body-building skills, given that most males weight in at around 200 pounds, with females being a bit smaller.
Piglets for this breed come to about the same total as a puppy, about $2,000. Their average life span is 16 years, and after they die you can eat their tasty tasty bodies (Kidding. Well sort of. At least, Jones never said that).
So if you think other kinds of pets are a boar, maybe pigs are just what you need. Hogs and kisses XOXO.
via CBC News