No-kill Atlanta-based rescue organization, Furkids Animal And Rescue Center, just took a new approach to adoption commercials. We're all familiar with Sarah McLachlan's shame inducing, heart wrenching promo featuring the SADDEST pets you've ever seen – but Furkids took tears to a whole new level with the laugh-cry route. I never thought I could be the kind of heartless wretch that would literally laugh my a$$ off at a pet shelter commercial, but there it is folks.
Hilariously mimicking all of what is wrong with typical TV sales pitches, we have a spoof of the ridiculous inflatable air men:
A hilarious quick-witted and fast-talking salesman:
Who says, you know, endearing things about pets, like the fact that he can't believe this cat is so small when it eats so much…and then calls it a fatty:
He even pays tribute to McLachlan herself by throwing in his acoustic version of "In the Arms of an Angel"….which he promptly forgets the words to.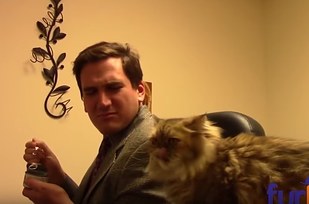 All in all the commercial is a pawsome success and totally wins the internet. Take a watch for yourself:
For those wondering, the spokesman here is Paul Preston, a local volunteer's brother, who seriously might deserve a spot in a real commercial.
As Samantha Shelton, a spokesperson for Furkids, told BuzzFeed News:
"the inspiration for the video was to make something funny to get people motivated to adopt and support their animals.
She said that once they enlisted Preston, the video took only 30 minutes to shoot and about an hour to edit. The budget consisted of a couple of cans of cat food to feed the animal "actors" involved in the filming.
She added that the reactions to the video have been overwhelmingly positive, and it has even resulted in an increase in adoption applications. She also said that she hopes it inspires people to visit their local animal shelters and adopt, volunteer, and offer support."
Nailed it!